I recently got these books in the mail so I figured I'd share them with you. Let me know if you have read any of them and what you thought about them.
The Perfe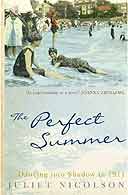 ct Summer: Dancing into Shadow in 1911
by Juliet Nicolson
(Published/Released:
September 13, 2007)
The summer of 1911 was one of the high sunlit meadows of English history, but on the horizon lurked a gathering storm. A new king was on
the throne and the aristocracy were at play. Yet as temperatures soared, cracks appeared under the surface with strikes, class divisions and the seeds of war to come. Through the eyes of
a series of exceptional individuals - among them a debutante, a choirboy, a politicians, a trade unionist, a butler and the Queen
.
In Cold Pu
rsuit: A Mystery From The Last Continent
by Sarah Andrews
(Published/Released:
June 3, 2010)
Valena Walker is a dedicated master''s student in geology headed to Antarctica to study glaciology with the venerable Dr. Emmett Vanderzee. Being on the ice is something she''s dreamed about since she was a little girl. But when she finally arrives at McMurdo, she discovers that her professor has been arrested for murder, and what''s more, that the incident happened a year ago. A newspaper reporter who''d visited Antarctica the previous winter had died from exposure, and though no one was a fan of the guy---he was attempting to contradict Vanderzee's research---by all accounts, everyone was devastated to lose someone on the ice. Valena quickly realizes that in order to avoid being shipped north immediately and having her grant canceled, she must embrace the role of detective and work to clear his name---and save herself in the process.
The Devil's Q
ueen: A Novel of Catherine de Medici
by Jeanne Kalogridis
(Published/Released:
March 29, 2011)
Confidante of Nostradamus, scheming mother-in-law to Mary, Queen of Scots, and architect of the bloody St. Bartholomew's Day Massacre, Catherine de Medici is one of the most maligned monarchs in history. In her latest historical fiction, Jeanne Kalogridis tells Catherine's story-that of a tender young girl, destined to be a pawn in Machiavellian games.Born into one of Florence's most powerful families, Catherine was soon left a fabulously rich heiress by the early deaths of her parents. Violent conflict rent the city state and she found herself imprisoned and threatened by her family's enemies before finally being released and married off to the handsome Prince Henry of France.Overshadowed by her husband's mistress, the gorgeous, conniving Diane de Poitiers, and unable to bear children, Catherine resorted to the dark arts of sorcery to win Henry's love and enhance her fertility-for which she would pay a price. Against the lavish and decadent backdrop of the French court, and Catherine's blood-soaked visions of the future, Kalogridis reveals the great love and desire Catherine bore for her husband, Henry, and her stark determination to keep her sons on the throne.
Sense and S
ensibility and Sea Monsters
by Ben Winters (and Jane Austen)

Sense and S
ensibility and Sea Monsters expands the original text of the beloved Jane Austen novel with all-new scenes of giant lobsters, rampaging octopi, two-headed sea serpents, and other biological monstrosities. As our story opens, the Dashwood sisters are evicted fro
m their childhood home and sent to live on a mysterious island full of savage cre
atures and dark secrets. While sensible Elinor falls in love with Edward Ferrars, her romantic sister Marianne is courted by both the handsome Willoughby and the hideous man-monster Colonel Brandon. Can the Dashwood sisters triumph over meddlesome matriarchs and unscrupulous rogues to find true love? Or will they fall prey to the tentacles that are forever snapping at their heels? This masterful portrait of Regency England blends Jane Austen's biting social commentary with ultraviolent depictions of sea monsters biting. It's survival of the fittest-and only the swiftest swimmers will find true love!
Lastly this is an ebook (free from Amazon and Chapters) that I figured I'd see what it's all about:
Spirit Thorn (A Tale of Parallel Worlds)
by Zacharias O'Bryan
(Published/Released: April 7, 2010)
Do parallel worlds exist? Searching for proof Professors Rodger & Cassie Swift vanish. Kestrelle an other-world girl claiming to know their fate tells their son Braden he must brave a whitewater tooth-sprouting river into a land where wise vultures predict the future and blue minds inhabit lava caves. Only two powers can help: Kestrelle's Blood Thorn and Braden's vine-painted guitar.